Quilt Material:
I currently use 5 types of fabric for down filled quilts. All are durable and come with both a DWR and a calendared finished side which gives it the down-proof rating. If you are wanting a certain type let me know.
Argon 90 – Nylon Ripstop .90oz/yd (Burnt Orange, Lime, Brick Red, Dark Olive, Coyote Brown, Ti Grey, Charcoal Grey, Moroccan Blue & Purple)

Ripstop 1.0 – Nylon Diamond Ripstop 1.0oz/yd


Epsilon 1.55 – Nylon Ripstop (Digital Woodland Camo (AOR2))

Ion 1.1 –  Nylon Taffeta 1.1 oz/yd (Dark Olive, Black, Purple, Burnt Orange, Moroccan Blue)
Under Quilt Protectors
All of the quilt fabric carried make great Under Quilt Protectors as well.  UQP's help your UnderQuilt to keep it's heat in the wind/breeze.  This is especially important in the temperatures below freezing 30*F / 0*Celsius.  An UQP can also help to keep air from moving between your UQ's and the hammock as well.  The DWR coating also helps to repel moisture from rain splashes or condensation. All around, a good idea for the colder temperatures. One other thing an UQProtector does is seals up the ends of your UQ without compressing the quilt.  It's not specifically designed for this purpose but it still does it. This can also help keep things warm. Less Drafty.
installation of an UQP is easy. The shock cord at the ends simply slip onto your suspension at both hammock peaks, surrounds your UQ and you can cinch up the sides a bit as needed. When you see it, it will make sense. Easy!
Special order fabric.
If you are interested in something specific you can order the fabric from the vendor and have it shipped to me to custom make your hammock or quilt. Contact me and let me know!
Hammock Material:
I have a variety of hammock weights and material patterns. Availability depends on what the suppliers have when I make my orders.
Quilt Material Color – Pictures
Dark Olive / Burnt Orange
2. Something fancy
3. MultiCam Epsilon / Olive Drab
4. Purple / Grey
5. Winter Camo / Olive Drab
6. Camo (flecktarn) / Burnt Orange
7. more fancy stuff
8. Fancier Stuff
9. ohh fancy
10. Charcoal Grey / Lime Green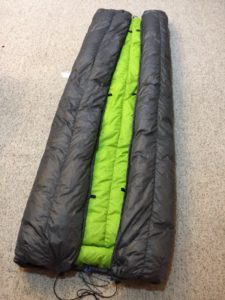 11. Camo (Flecktarn)
12. Multicam Epsilon / Olive Drab
13. Dark Olive Outer / Charcoal Grey
14. fancy too!
15. Red Outer / Charcoal Grey inner